September 15, 2022

/

Recipes
2018 Abbey Oaks Vineyard Pinot Noir paired with Oxtail Bruschetta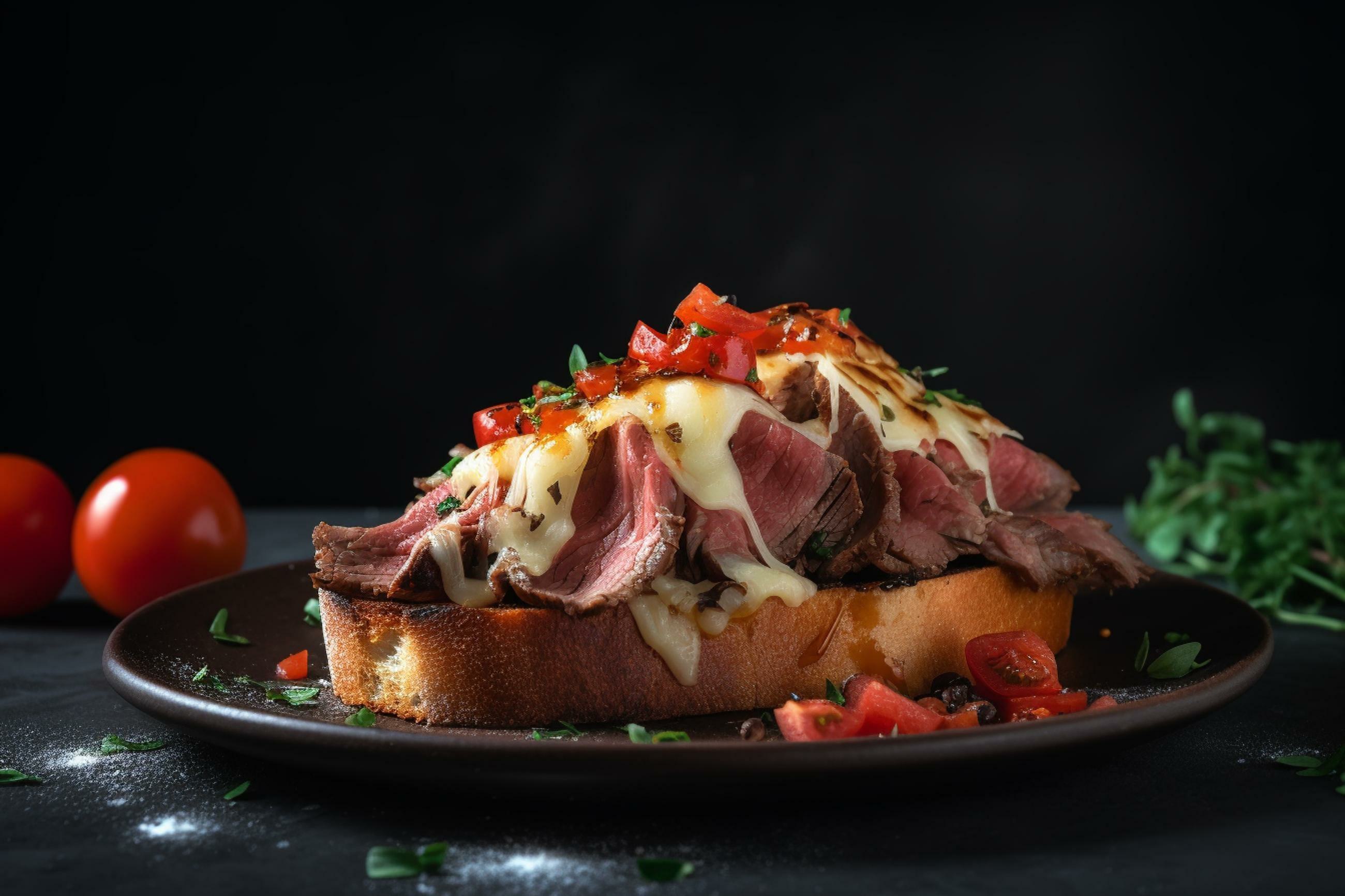 2018 Abbey Oaks Vineyard Pinot Noir paired with Oxtail Bruschetta
Skill: intermediate Serves: 4
The 2018 Abbey Oaks Vineyard Pinot Noir is rich and opulent, giving it the courage to stand up to the heaviest of dishes. This wine pairs well with savory, slow-cooked meats, complimenting the dark fruit and structured tannins of this remarkable wine.
Ingredients
3 oxtails
2 cups red cooking wine
4 cups chicken stock + ½ cup
2 bunches of parsley
2 lemons zested
1 orange zested
1 onion
1 shallot
1 loaf sourdough
2 oz baby arugula
½ cup crème Fraiche
black pepper
sherry vinegar
neutral oil
olive oil
Directions
Oxtail Marinade: Pour the cooking red wine into a saucepot. Simmer at medium heat until reduced by half. Cool completely. Add oxtails, 1 cup olive oil, and 1 bunch of parsley into a plastic freezer bag and marinate overnight.
Braised Oxtails: Roughly chop the onion. Strain the marinade off the oxtails and place the meat onto paper towels to dry completely. Reserve the marinade liquid.
Once oxtails are dry (30 or so minutes), heat oil over medium heat in a large Dutch oven (big enough to hold the oxtails snugly).
Season the oxtails with salt and sear on all sides. Once the oxtails are seared, add the onion, reserved marinade liquid (about 1 cup), and chicken stock.
Place the oxtails into the simmering liquid and braise for 3-5 hours.
When the oxtails are braised, shred the meat off the bone and season with salt and paper to taste.
Gremolata: Finely chop the remaining parsley and shallot. Add to mixing bowl. Add the zest of the fruits and a touch of sherry vinegar. Add olive oil until just barely covering the ingredients. Add the breadcrumbs and mix well.
Adjust seasoning with salt, pepper, and juice of the zested lemon.
Crème Fraiche: Pour the crème fraiche into a small mixing bowl. Crack a generous amount of black pepper into the crème fraiche.
Spoon the crème fraiche into a piping bag or squeeze bottle. If you do not have a piping bag or squeeze bottle, it can simply be dolloped on with a spoon.
Plating: Slice the bread into 1" thick slices.
Lightly brush oil onto the cut side of the bread. On a grill pan or hot skillet, char the bread until crispy. Brush with olive oil again once off the grill. Lightly season with salt to taste.
In a pan, add the reserved ½ cup of chicken stock and bring to a very gentle simmer. Add the shredded oxtail. Heat through and adjust seasoning.
In a mixing bowl, dress the arugula with olive oil and lemon Juice. Place shredded oxtail, a dollop of crème fraiche, and arugula onto the toasted bread.