December 15, 2020

/

Recipes
2018 Côte Sud Vineyard Chardonnay paired with Crudo Scallops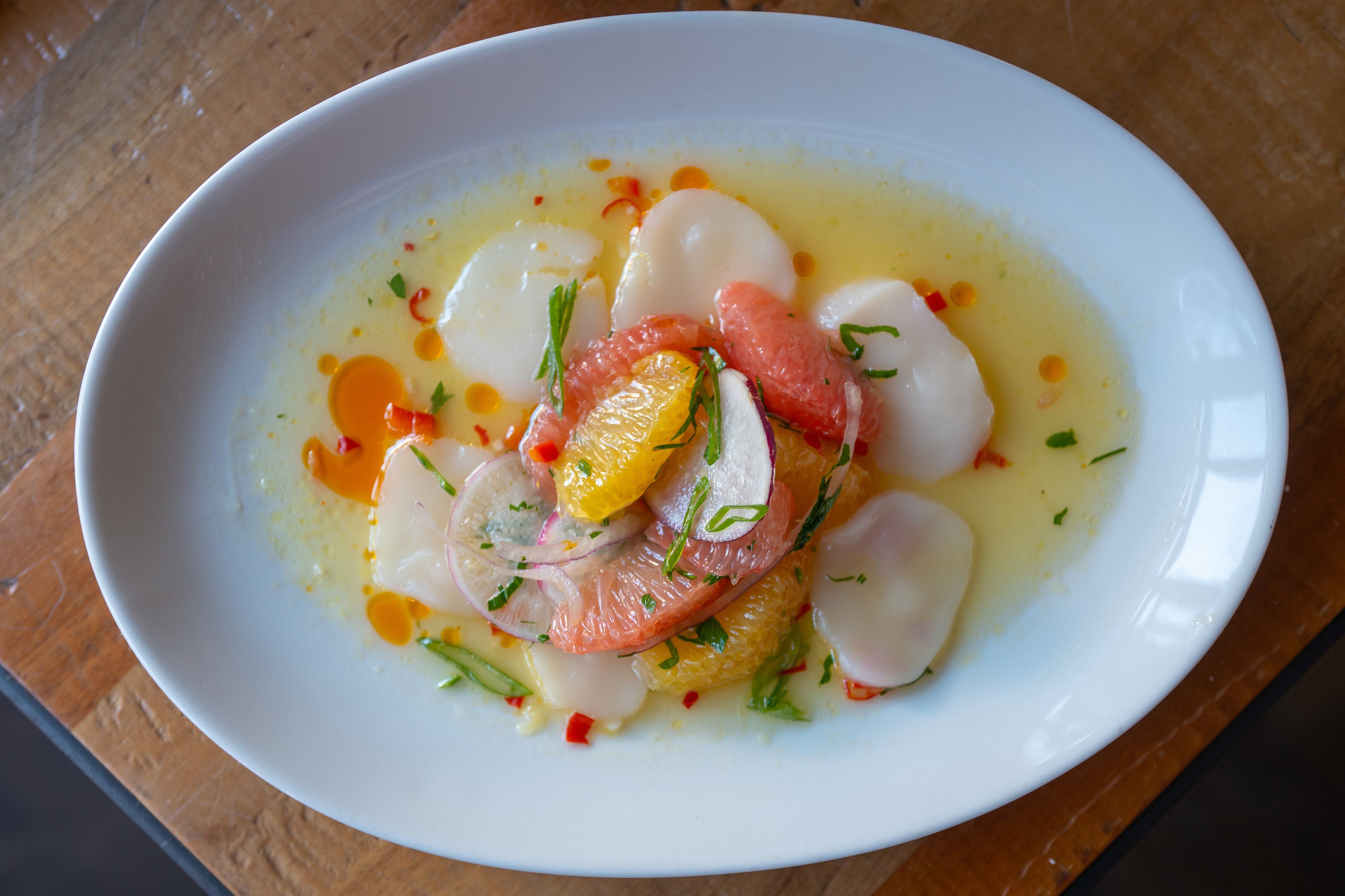 2018 Côte Sud Vineyard Chardonnay paired with Crudo Scallops
Skill: intermediate Serves: 4
The bright acidity of the Crudo tames the acid of the Côte Sud Vineyard Chardonnay, bringing out fruit notes in the wine that also make it taste sweet on the palate.
Ingredients
8 each U8 or U10 scallops
2 lemons
1 bunch radish
1 bunch tarragon
1 bunch parsley
1 cup sugar
olive oil
salt and pepper
maldon or fleur de sel salt
Directions
Lemon Confit: In a small saucepot, combine 2 cups water with 1 cup sugar. Bring to a boil and reduce to simmer for 5 minutes. Set simple syrup aside.
Cut the top and bottom off the lemon. Using a sharp knife with one of the cut sides on a cutting board, cut the rind of the lemon off so there is no white pith left on the flesh.
Using a sharp paring knife, cut each segment out from the membrane of the lemon. Cut each piece in half.
Gently place the segments of lemon into the saucepot with the simple syrup and very lightly simmer for 5 minutes.
Turn the burner off and let the lemons cool completely in the simple syrup.
Garnish & Scallops: Slice the radish thinly on a mandolin. Soak in ice water.
Slice the Scallops. Placing the scallops on their sides, carefully cut each scallop into 1/8" slices. Evenly arrange scallop slices onto plates. Feel free to be creative with the plating.
Plating: Dress the radish with olive oil, salt, and pepper. Taste and adjust if needed. Gently tear the herb leaves into the bowl of sliced radish and mix.
Lightly dress the top of the scallops with a little olive oil and maldon or fleur de sel salt.
Place the "radish salad" on top of the plated scallops and finish each plate with around 6 pieces of lemon confit.