September 15, 2020

/

Recipes
2018 Grace Vineyard Pinot Noir paired with Seared Yellowtail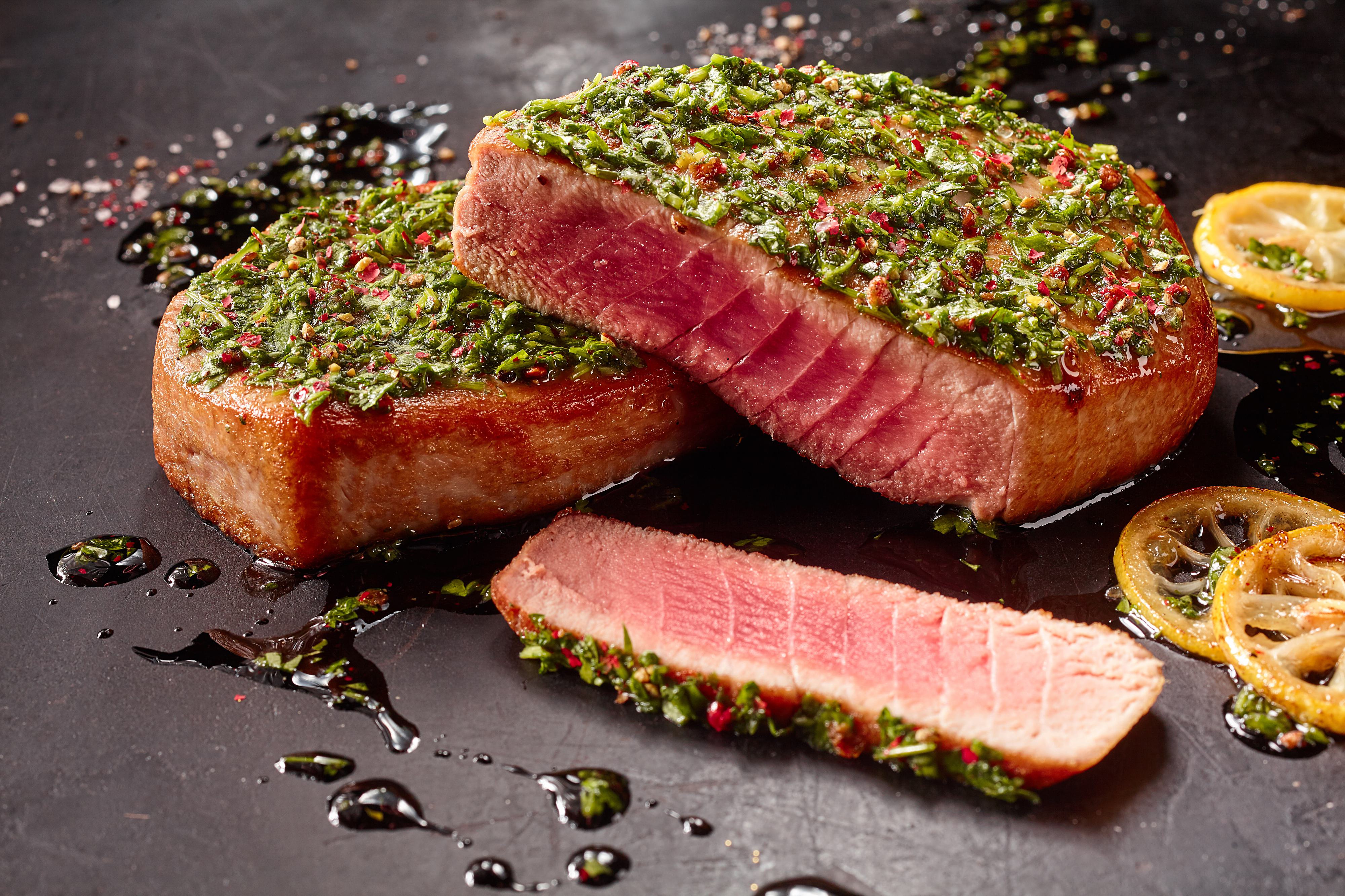 2018 Grace Vineyard Pinot Noir paired with Seared Yellowtail
Skill: intermediate Serves: 4
Grace Vineyard Pinot Noir is known for its elegance and depth. By pairing this beautiful wine with seared tuna flavors of ripe cherry, chocolate, and vanilla, this wine becomes even more smooth and enticing.
Ingredients
3 yellowtail tuna steaks
1 tri-color mini sweet peppers
1 tbsp paprika
2 oz pine nuts
1 shallot
1 bunch fresh parsley
1 oz fresh oregano
2 egg yolks
½ cup neutral oil, canola, or grapeseed
12 each small Yukon gold potatoes
sherry vinegar
olive oil
Directions
Potatoes: Place the potatoes in a pot of cold water. Gently cook on the stove for 25 minutes until fork tender.
Drain the potatoes and allow them to cool completely in the refrigerator.
Using your hand, gently smash the potatoes leaving them in one piece and the inner flesh exposed. Reserve smashed potatoes. This step can be done up to a day ahead if you'd like.
Piperade & Aioli: Preheat oven to 350 F. Dice the bell peppers and shallot into 1/4" dice. In a small sauté pan or small baking sheet, lightly toast the pine nuts for around 10 minutes, until they become aromatic.
In a small saucepot, cook the peppers and shallot in 1 tsp neutral cooking oil, until tender.
Pour the mixture into a heat-proof container and allow it to come to room temperature.
Chop the fresh herbs and add to the pepper and shallots. Fold in the pine nuts and add olive oil until it fully covers the ingredients. Season with salt and sherry vinegar. This can be done up to one day ahead if you'd like.
Whisk the egg yolks together in a mixing bowl until light and fluffy. Pouring very slowly, add the neutral oil 1 tsp at a time while whisking vigorously until the oil has emulsified into the yolks.
Repeat the process until none of the oil remains. If the aioli becomes too thick, add a tablespoon of cold water to thin the sauce.
Tuna & Potatoes: Season the steaks with salt and pepper. In a smoking hot non-stick pan, add neutral oil.
Sear the tuna on each side, turning every 30 seconds. The tuna should be browned on the exterior and still rare on the interior. Set tuna aside on a paper towel-lined plate.
Wipe the non-stick pan and return to the heat. Add cooking oil and sear the potatoes in batches. Drain potatoes onto a paper towel-lined plate and season generously with salt and pepper.
Plating: Assemble the potatoes onto 4 plates.
Slice the tuna into 4 even pieces, then slice again into 3 slices on each plate.
Garnish the plate with small dollops of the aioli. On top of the tuna, spoon the piperade over the top of the sliced loin.