January 15, 2023

/

Recipes
2018 Two Barns Vineyard Pinot Noir paired with Grilled Chicken Breast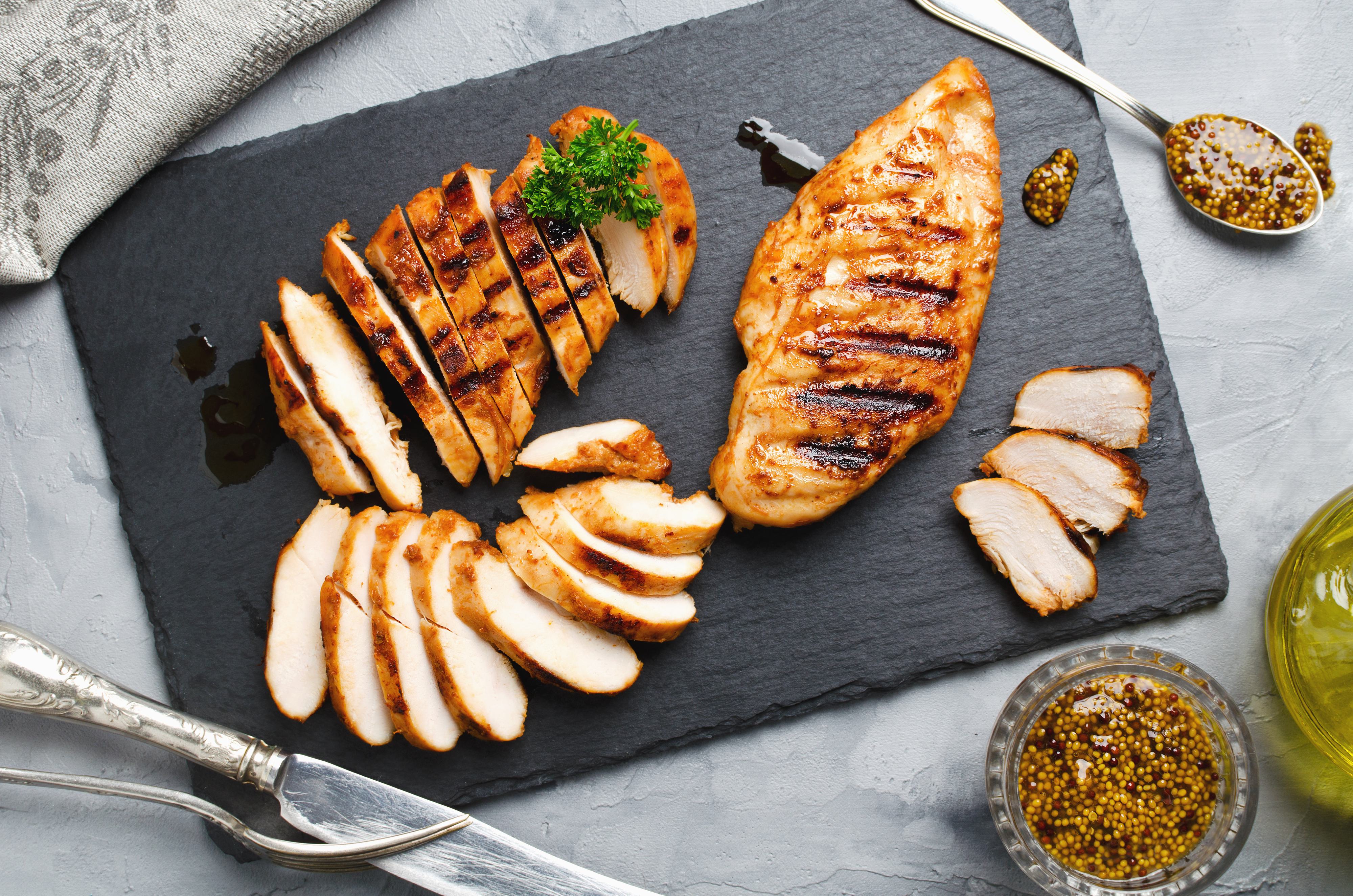 2018 Two Barns Vineyard Pinot Noir paired with Grilled Chicken Breast
Skill: intermediate Serves: 4
The two distinct soil types in our Two Barns site produces a unique and complex wine, exemplified in the 2018 Two Barns Pinot Noir. As a result, this wine is incredibly versatile and comes to its own when paired with grilled chicken breast, bringing dark berry notes and hints of iron to the forefront.
Ingredients
2 cups peas, shucked (or frozen)
4 chicken breasts, bone-in, and skin-on
¼ cup honey
1 lb unsalted butter
½ lb shiitake mushrooms, cleaned
1 cup polenta
1 cup grated Parmesan cheese
5 cups water (for polenta)
1 bunch parsley
Directions
Polenta: Soak polenta overnight. Drain the next day.
Bring 5 cups of water to a boil. Slowly whisk in polenta. Over low heat, cook, continuously stirring for 1 hour or until thick and porridge-like.
Add ¼ lb butter, cubed and parmesan cheese, grated. Season with salt and pepper. Remove from heat and cover with foil to keep warm. Set aside.
Honey Glazed Peas: In a small saucepot, heat honey over low heat, stirring as not to burn. Add 4 tbsps butter until mixed. Remove from heat and cover with foil to keep warm.
In a large pot of salted water, blanch peas for 30 seconds. Transfer to a bowl of ice water. Drain.
Before serving, heat the pot of honey.
Shiitake Mushrooms and Chicken Breast: Preheat the outdoor grill.
Destem shiitakes and drizzle with oil, season with salt and pepper. Grill stem side up until tender. Remove from heat. Slice into bite-size pieces.
Grill chicken breast skin side down until crispy. Flip to continue cooking with the grill lid closed for about 8 minutes.
Using a meat thermometer, ensure internal temperature reaches 165 degrees F. Remove from heat and allow to rest for 5 minutes.
Heat the saucepot of honey butter glaze. Add the peas and shiitakes until warmed through.
Plating: On four plates, lay a spoon of polenta down. Slice the chicken breast into three pieces.
Divide the glazed vegetables and honey butter sauce on top of the chicken. Garnish with individual sprigs of parsley.