March 17, 2019

/

Recipes
Cedar Plank Columbia River Salmon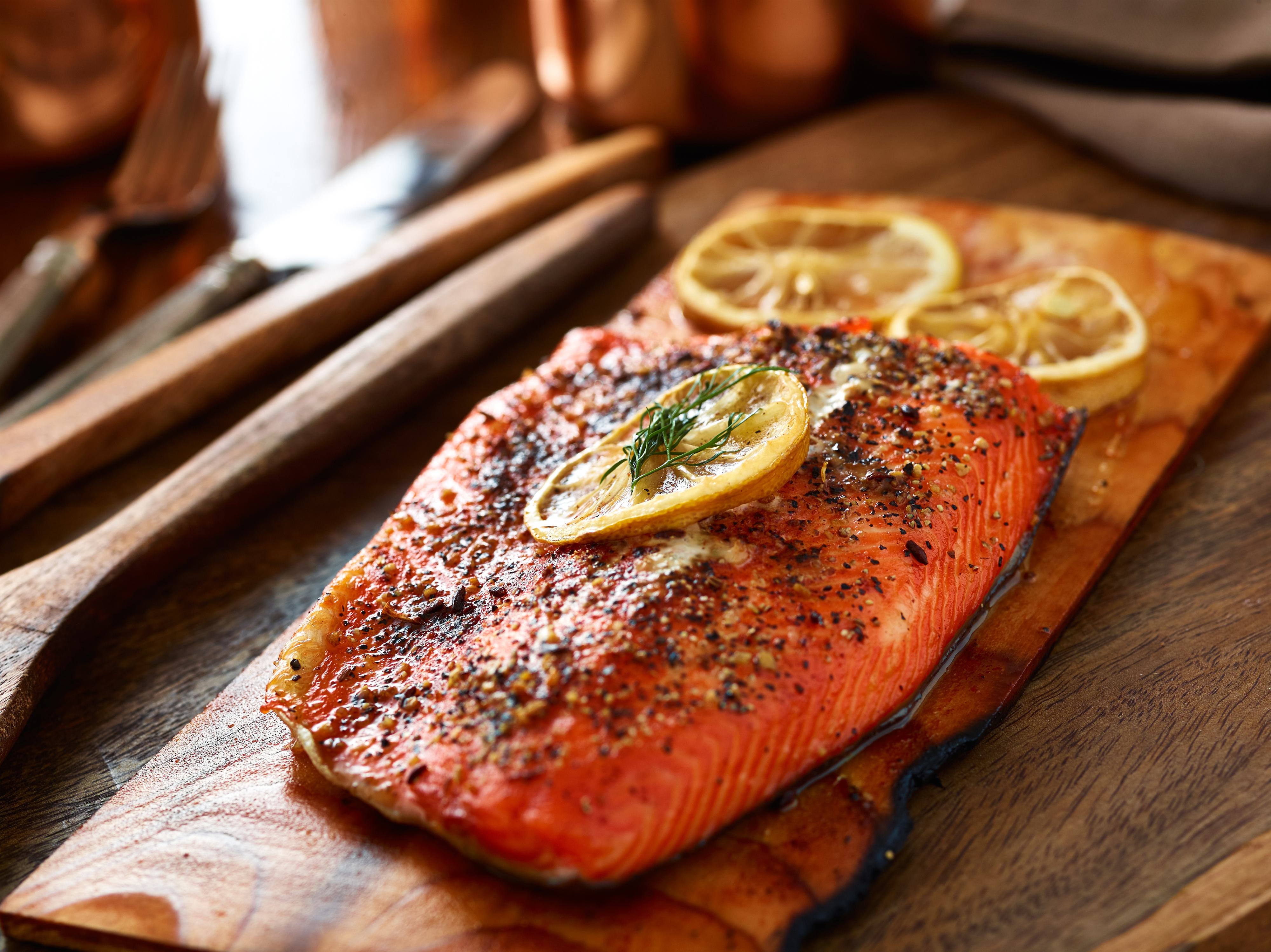 Cedar Plank Columbia River Salmon
Skill: intermediate Serves: 6
Total: 30min
This versatile dish pairs well with our Domaine Serene, Multi-Vintage 'r' Rosé v. XII or 2017 Domaine Serene, 'Evenstad Reserve' Pinot Noir
Ingredients
1 Cedar Grilling Plank (15 x 6 inches in length)
6 5-ounce pieces of skin on Columbia River Salmon
3 cups Fresh Marionberries (reserve 1/4 cup for garnish)
1 cup Domaine Serene Evenstad Reserve Pinot Noir
¾ cup Dark Brown Sugar
½ Each Whole Cinnamon Stick
¼ tsp Whole Allspice Berries
½ tsp Lemon Zest
½ tsp Minced Fresh Rosemary
Directions
Soak and immerse the cedar planks in cold water for two hours. (*cedar planks can be purchased at your local supermarket or hardware store in the grilling section)
If using a gas grill set your knobs at the medium-high heat setting. If using a charcoal grill, you'll want to prepare it for direct heat cooking over medium-hot charcoal.
Place washed marionberries, Evenstad Reserve Pinot Noir, dark brown sugar, cinnamon stick, allspice, lemon zest, and rosemary in a small pot and simmer for one hour or until the mixture has been reduced to a syrupy consistency and can coat the back of a spoon. Allow to cool before brushing on the salmon.
Brush the glaze on top of each piece of salmon on the 'presentation' side of the fish. This will be the side opposite of the skin side. If you want a chunkier style glaze leave as is. If you prefer a more refined version then strain the sauce through a fine-mesh sieve before brushing on the salmon. Allow to marinate at room temperature for 15 minutes.
Place the salmon skin side down on the cedar plank. Grill the salmon covered with the lid until it is just cooked through and the edges are brown. This should take between 12-15 minutes.
Allow the salmon to rest on the plank for 5 minutes before serving to your guests. Garnish with reserved marionberries, a few slices of fresh lemon, and some fresh thyme sprigs or fennel tops.