July 16, 2019

/

Recipes
Lobster Pot Pie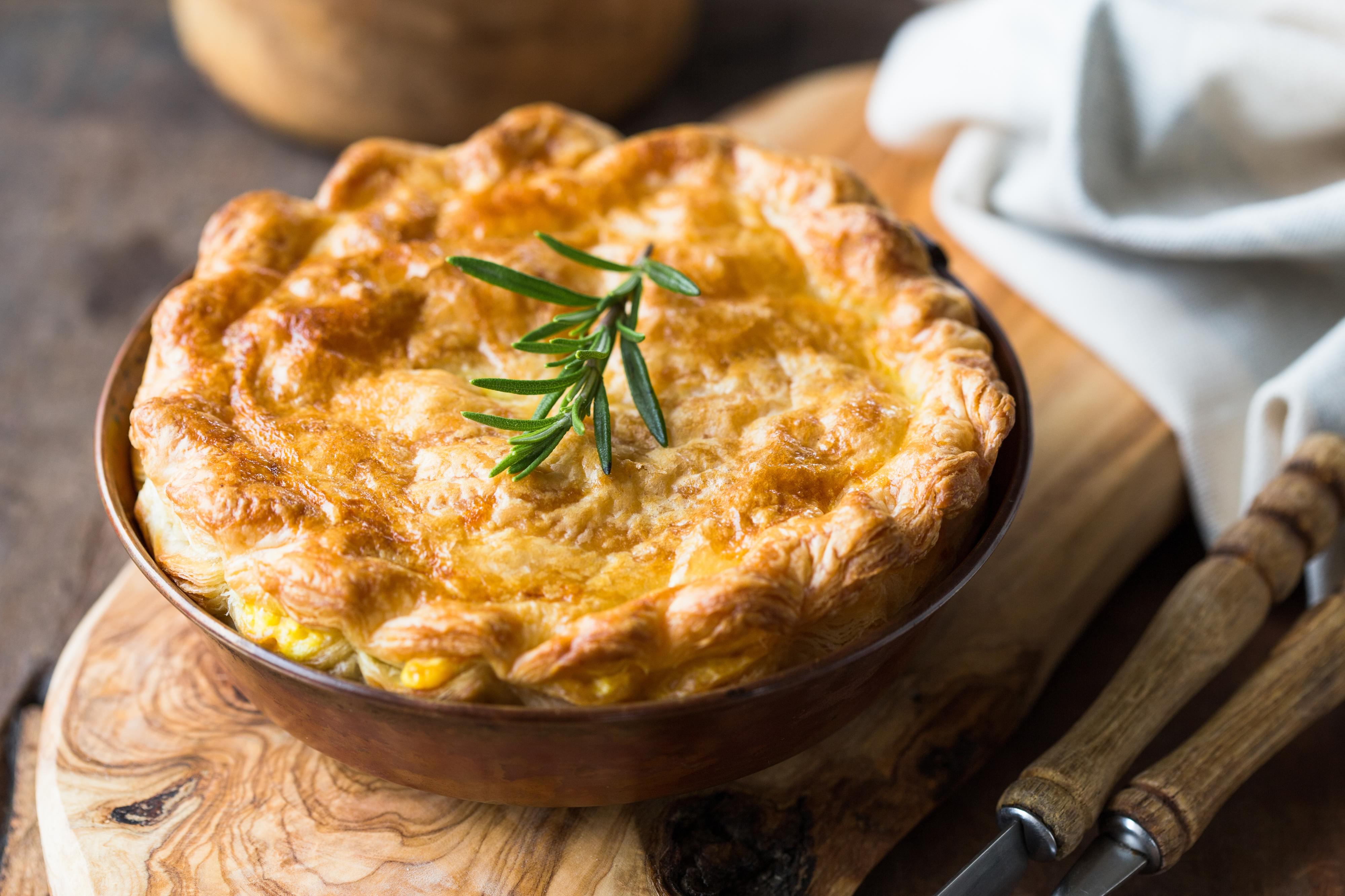 Lobster Pot Pie
Skill: intermediate Serves: 4
Total: 60min
This delicious recipe was chosen to showcase a broad range of Chardonnays - from crisp to more rich and creamy. Additionally, its versatility makes it a perfect match for our 2018 Domaine Serene, Coeur Blanc White Pinot Noir!
Ingredients
½ cup Carlton Farms bacon lardons | Optional for pescatarians
3 tbsp unsalted butter
3 cloves garlic (finely minced)
1 small yellow onion (finely minced)
¼ cup fennel bulb (finely diced)
¼ cup celery stalk (finely diced)
¼ cup brandy
1 tbsp fresh thyme leaves (roughly chopped)
3 tbsp all-purpose flour
1 ¾ cups heavy cream
½ cup sweet yellow corn kernels (fresh preferred but frozen is fine)
½ cup pee wee potatoes (can substitute fingerlings or Yukon golds)
1 lb Raw lobster meat cut into ½ inch pieces
1 pinch freshly grated nutmeg
Jacobsen's Sea Salt to taste
Finely ground black pepper to taste
2 Farm fresh eggs (lighten beaten for 'egg wash')
¼ cup freshly chopped chives (for garnish)
Directions
Cook bacon in a 4-quart sauce pot over medium-low heat. Allow the fat to render and the bacon to get crispy and golden brown. Remove the bacon with a strainer and leave the fat in the pot. Add the butter and the onion, fennel, celery, pee wee potatoes & garlic and cook until soft and lightly golden brown (around 5-7 minutes).
Pour in the brandy and reduce by half for around 1 minute. Add the chopped fresh thyme and stir to incorporate.
Next, whisk in the flour allowing it to cook and become lightly 'toasted' for about 2 minutes. Add the heavy cream and bring the mixture to a complete boil. Stir often until the sauce is thickened which should take around 4-5 minutes.
Stir in the sweet yellow corn, lobster meat, and reserved crispy bacon lardons. Season with salt and pepper.
Heat oven to 400ᵒF. Divide the mixture between four, 8-ounce ramekins lined on a baking sheet pan.
Using a round ring cutter; cut your puff pastry into four 4 ½ inch circles. If you don't have a ring cutter you can use the ramekin as a guide to trace the puff pastry with the tip of a paring knife leaving a little extra to fold down. Brush the edges of the ramekins with beaten egg and place the puff pastry over the top pressing down to create a tight seal. Brush the puff pastry with the remaining egg wash.
Bake in the oven for 25-30 minutes until the puff pastry is golden brown throughout and the lobster mixture is bubbling hot inside.
Finish the dish with a sprinkle of chopped chives and enjoy with your favorite Domaine Serene white wine!