April 7, 2019

/

Recipes
Pinot Noir Braised Lamb Shanks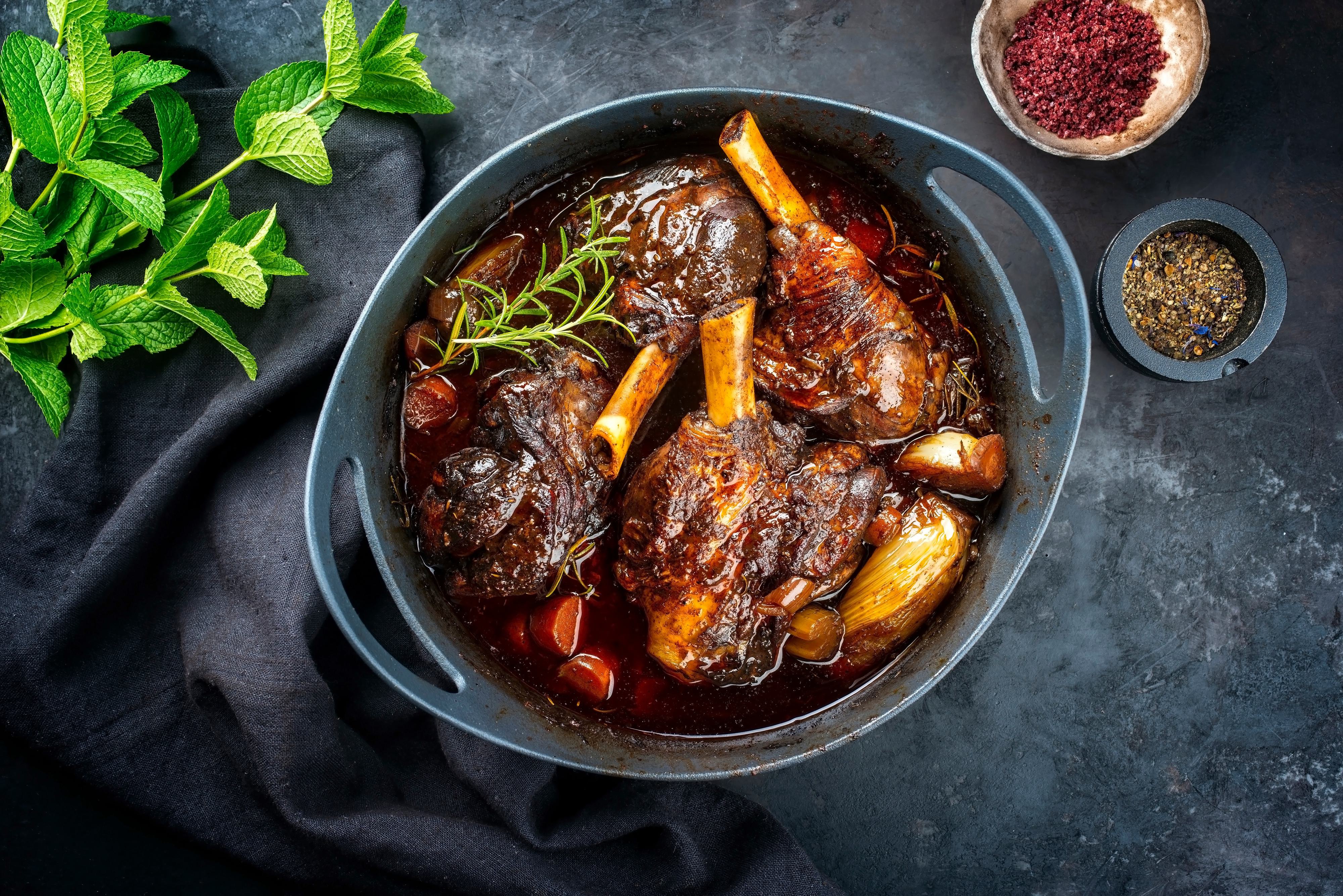 Pinot Noir Braised Lamb Shanks
Skill: intermediate Serves: 1
Total: 165min
Pair this savory recipe with our 2017 Domaine Serene, Fleur de Lis Vineyard Pinot Noir! Its subtle fruit and spice mingle perfectly with the complex flavors of this classic dish.
Ingredients
4 Lamb Shanks Seasoned with Salt and Black Pepper
¼ cup Blended Olive Oil
4 White Onions, Julienned
4 Garlic Cloves, Lightly Crushed
3 tbsp Brown Sugar
¼ cup Tomato Paste
1 cup Diced Tomato
1 tsp Curry Powder
2 tsp Cumin Seed, Toasted and Ground
2 tsp Coriander, Toasted and Cracked
4 Cinnamon Sticks
6 cups Chicken Stock
4 cups Lamb or Beef Stock
2 cups Pinot Noir
Salt and Black Pepper To Taste
Directions
In a medium-sized pot over low heat caramelize the onions. While the onions are cooking, in a large sauté pan over medium-high heat sear the lamb shanks whole surface until golden brown. Drain the lamb of excess fat and reserve. When the onions are almost fully caramelized add the garlic cloves and sauté. Add the lamb, brown sugar, tomato paste, diced tomatoes and spices. Add the chicken stock, lamb/beef stock and Pinot. Bring to a simmer, season with salt and pepper. Cover with lid or aluminum. Braise for about 2:45 hours in a pre-heated oven set to 335 until the sauce is the proper consistency and the lamb is tender.