April 1, 2020

/

Recipes
Short Rib Bourguignon With Creamy Polenta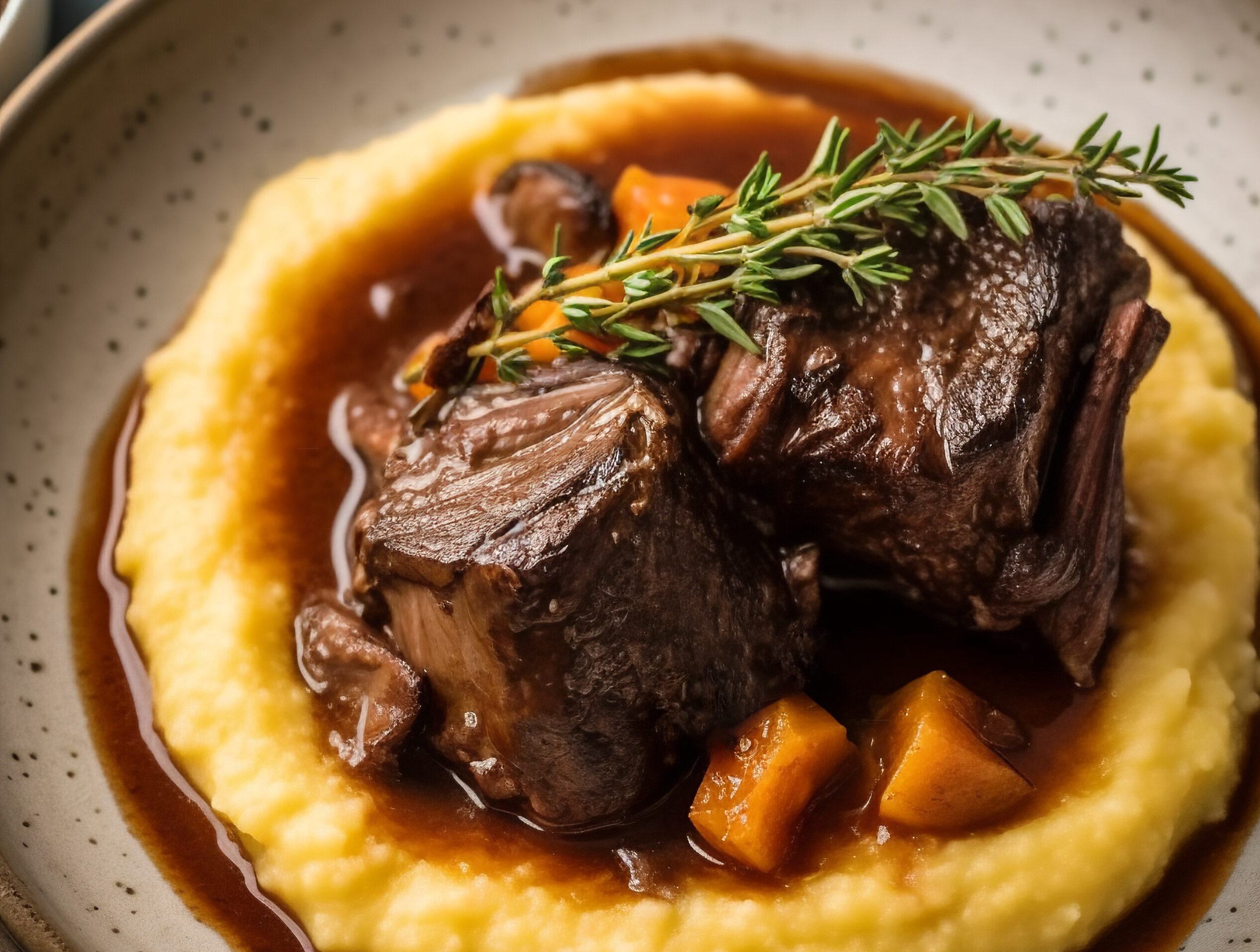 Short Rib Bourguignon With Creamy Polenta
Skill: intermediate Serves: 4
Total: 180min
Pair with 2017 Domaine Serene, Abbey Oaks Vineyard Pinot Noir! With its unique combination of clones, soils, exposure and elevation, the 2017 Abbey Oaks Vineyard Pinot Noir exudes ripeness and a depth, ideal for pairing with the Short Rib Bourguignon. Possessing layers of dark fruit, tobacco and black tea on the palate, with savory, velvety tannins, Abbey Oaks perfectly complements the richnesss of the Bourguignon. As a comfort food, the dish is unparalleled for those cooler Spring evenings relaxing with family and friends, when the mood is cozy and the outside air perfectly fresh. The Short Rib Bourguignon is featured on our current 45th Parallel menu, an elevated food and wine experience, offered daily at the Clubhouse in our exquisite Renaissance Hall overlooking our vineyards.
Ingredients
5 Short ribs, trimmed & cut into 2"x 2" cubes
4 cups Pinot Noir
2 tsp Salt
1 cup Bacon lardon
3 cups Peeled pearl onion
1 cup Celery
1 tsp Minced garlic
1 cup Carrots, peeled & sliced into rounds
1 cup Crushed tomatoes
1 tbsp Flour
2 cups Cremini mushrooms, quartered
1 tsp Thyme, chopped
1 Bay Leaf
8 cups Beef stock
Parsley leaves
1 cup Polenta
3 tbsp Olive oil
2 cups Water
2 tbsp Butter
1 cup Parmesan cheese
1 tbsp Salt
Directions
Short Ribs: Mix the short ribs, salt and 1/2 of the wine, and allow to rest overnight.
Strain the wine from the short rib and set aside. In a braising pan, sear the short ribs in batches and place in a deep Dutch oven, or similar roasting pan. Add bacon lardons, and cook until caramelized, drain off any fat from the pan. Add carrots, celery, onions, mushrooms and garlic. Cook until translucent. Add the canned tomatoes and wine and reduce wine by half. Add the remaining ingredients and bring to a simmer. Pour over ribs, and cover with lid.
Cook at 275°F for 3 hours or until short ribs are tender. Garnish with parsley leaves before serving.
Polenta: Heat salted water to a boil over high heat in a thick-bottomed 3-quart pan. Slowly add the polenta into the boiling water, whisking as you go to prevent any lumps from forming.
Lower the heat to a very low simmer and add butter. Continue to whisk the polenta until it starts to thicken. Then, cover the pan and let the polenta cook for 25 minutes. Stir occasionally with a wooden spoon so that the polenta doesn't stick to the bottom of the pan. The polenta should be soft and tender when done. If not, let it cook a little longer.
Add the cheese and stir in the polenta. Taste and add more salt if necessary.