December 16, 2019

/

Recipes
Turkey Roulade With Sausage Cornbread Stuffing with 'Evenstad Reserve' Chardonnay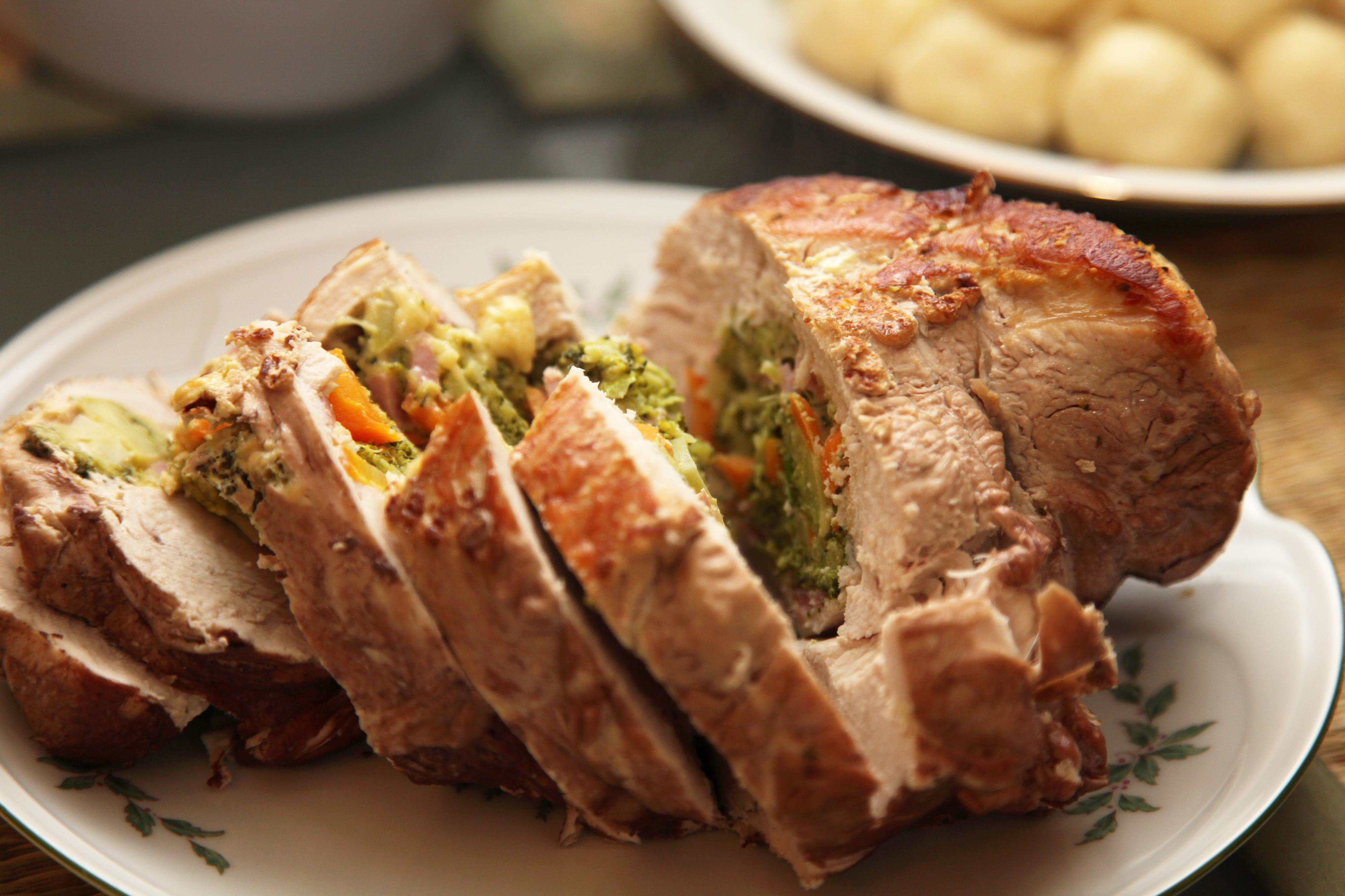 Turkey Roulade With Sausage Cornbread Stuffing
Skill: intermediate Serves: 4
Total: 90min
We recommend a red and a white wine pairing for this holiday favorite. Try our 2018 Domaine Serene, 'Evenstad Reserve' Chardonnay, or pair with a red and a white and serve alongside our 2017 Domaine Serene, 'Evenstad Reserve' Pinot Noir.
Ingredients
1 each 4-inch by 4-inch square cornbread
1 cup mild Italian pork sausage (casing removed and crumbled)
2 tbsp yellow onion (small diced)
1 tbsp carrot (small diced)
1 tbsp 'Oregon Mills' extra virgin olive oil
1 each pinch kosher salt to taste
1 each pinch finely ground black pepper to taste
½ tbsp fresh thyme (finely chopped)
1 tbsp fresh sage (finely chopped)
¼ tsp fresh rosemary (finely chopped)
3 tbsp cubed unsalted butter
2 cups chicken broth
¼ cup shucked corn kernels
¼ cup dried cranberries
1 each large brined boned and butterflied turkey breast (skin on)
Directions
Preheat oven to 350ᵒF and toast cornbread for 10 minutes until golden brown and crisp on the edges.
In a medium skillet; cook the sausage in the olive oil until golden brown. Add the onion, carrot, and celery and sweat until translucent. Season to taste with salt and pepper.
Add the sage, rosemary, and thyme and stir to incorporate.
Transfer to a bowl and add the cornbread (medium diced) along with the corn kernels, cranberries, and chicken broth.
Grease a baking dish with butter and fill with stuffing mix. Gently press the cold butter cubes evenly into the stuffing.
Bake the stuffing for one hour until it has reached an internal temperature of 165ᵒ, and the top is golden brown and crispy. Allow to cool until room temperature and refrigerate.
Preheat the oven to 425ᵒF. Position a rack in a roasting pan. Lay the turkey breast flat and season with salt and pepper. Spread the stuffing mixture in an even layer, then tightly roll the turkey breast. Tie the roll with kitchen twine--approximately 4 to 6 ties evenly spaced.
Rub the outside of the roulade with butter and season with salt and pepper. Roast on the rack in the oven for 30 minutes and then lower the temperature of the oven to 350ᵒF. Continue to cook until the skin of the roulade is golden brown and crispy, and a meat thermometer inserted into the center reaches 155ᵒF. This should take about another 1 hour to achieve. Transfer to your cutting board; cover with foil, and allow the roulade to rest for 10-15 minutes before slicing.