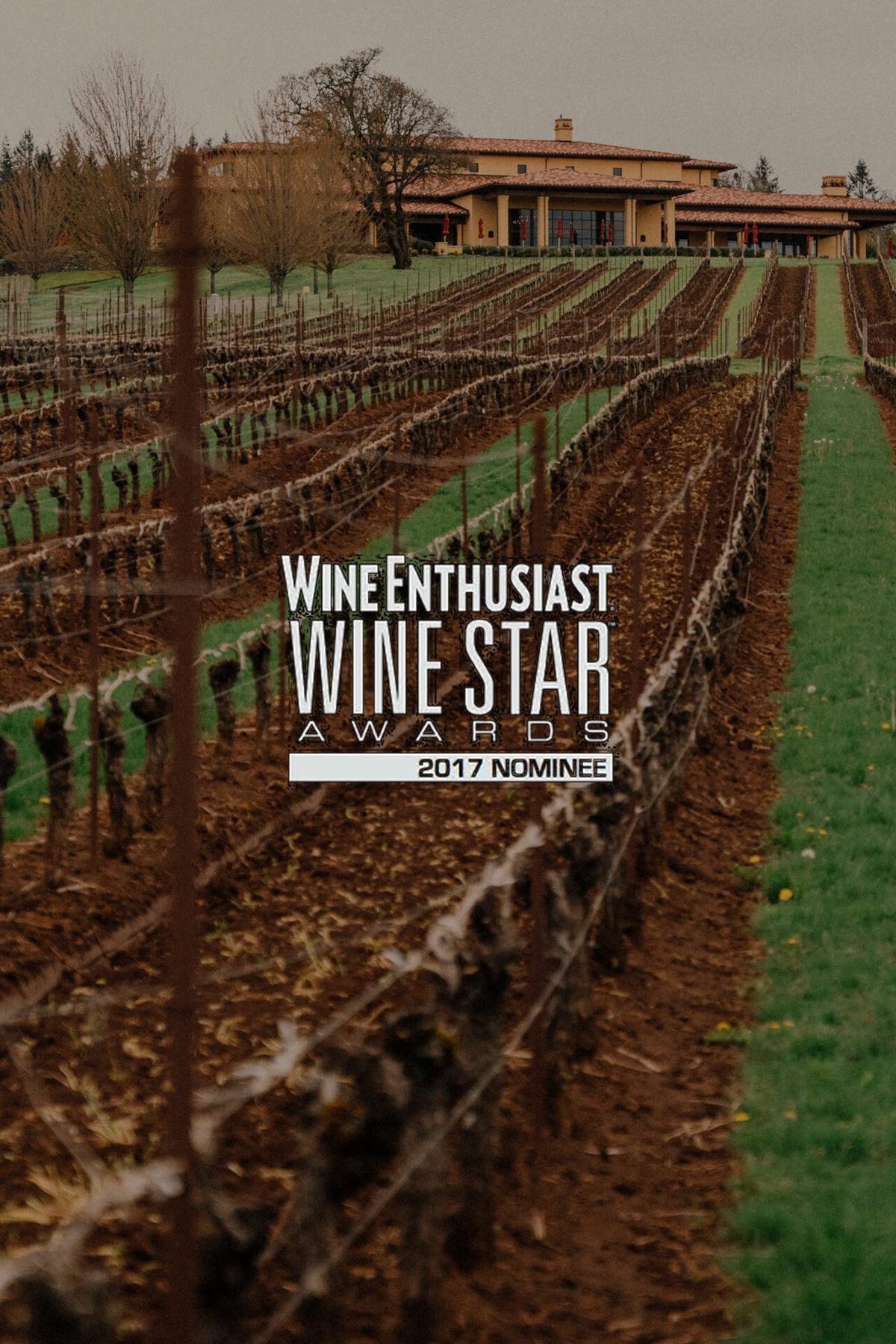 Wine Enthusiast names Ryan Harris as a nominee for Wine Executive of the Year
Domaine Serene, the award-winning Pinot Noir and Chardonnay producer located in the famous Dundee Hills of Oregon, is making news, yet again, as they have been announced as a finalist for a 2017 Wine Star Award by the Wine Enthusiast Magazine. Ryan Harris, Domaine Serene President since 2013, received a nomination for the 2017 Wine Executive of the Year among a virtual who's-who of top-talent in leadership roles in the global wine, beer and spirits industry.
"We couldn't be more pleased with this nomination. Ryan has built a best in class, high performing team at Domaine Serene and Château de la Crée. He has helped us to achieve uncommon success in the past few years while setting our business up for future generations of leadership." says Owner and Co-Founder Ken Evenstad. "His nomination is the result of our whole organization's efforts to make and sell the best Pinot Noir and Chardonnay in the world and our vision to change the landscape of fine wine, both in Oregon and in Burgundy," notes Owner and Co-founder Grace Evenstad.
After graduating from the University of California, Berkeley with a degree in Integrative Biology, Ryan moved from the distribution of wine to working for wineries - proving his leadership skills and drive for excellence working on some of the industry's most respected brands. Spending most his working career moving through the ranks at Louis Vuitton Moët Hennessy (LVMH), Ryan has been able to work with some of the world's most elite and cherished luxury wine & spirits brands and has gained an appreciation and talent for building enduring legacy brands. It is that pursuit that ultimately led him to Ken and Grace Evenstad at Domaine Serene.
At Domaine Serene, Ryan continues this enthusiasm, bringing his expertise and visionary approach to further establish the leading luxury wine brand of Oregon on the global stage. Leading by example, building a strong team, and assisting his employees to reach their full potential, Ryan exemplifies Domaine Serene's philosophy of 'continuous improvement'.
In his time leading the company, Ryan has greatly expanded Domaine Serene's global footprint, both in the form of distribution and acquisition. Over the past four years, Domaine Serene has more than doubled its export business and can now be found in top destination properties and Michelin-starred restaurants in twenty-two countries. He also led the acquisition of Château de la Crée, the venerable 15th century Domaine located in the famous Côte d'Or of Burgundy. Since the acquisition in 2015, he has directed launches of two new Burgundian-based Chardonnay and Pinot Noir brands – Maison Evenstad, and Les Tourelles de la Crée, while renovating and re-positioning the Château de la Crée brand.
This past Spring, Domaine Serene opened a new, best-in-class hospitality center, The Clubhouse at Domaine Serene, that is truly changing the landscape of fine wine in Oregon, and beyond. Just a month before The Clubhouse opened to the public, Domaine Serene broke ground on a new, dedicated white wine only winery - the first of its kind in Oregon. The new state-of-the-art facility is set to launch their highly anticipated sparkling wine offering in the summer of 2018 and will further the cutting-edge approach that has earned the Domaine Serene brand its globally recognized iconic status. Further, Domaine Serene has reaffirmed their leadership of Dundee Hills Chardonnay by doubling their acreage of Dijon clone Chardonnay vines planted at high elevations in the volcanic Jory soils of the Dundee Hills.
This nomination celebrates the innovative approach that Domaine Serene has demonstrated in a region that is receiving a lot of attention and recognition. It comes just a year after the Willamette Valley's big 'Wine Region of the Year' win in the previous 2016 Wine Star Awards by Wine Enthusiast Magazine. Additionally, it caps off another stellar year for accolades and praise for Domaine Serene's owners, wine-making team, and executive team as Decanter Magazine, for the second year in a row, recognized Domaine Serene as one of the world's top wine producers – awarding them the prestigious prize of Platinum "#1 American Pinot Noir" at the 2017 Decanter World Wine Awards for their 2013 Jerusalem Hill Vineyard Pinot Noir. Just a year before, at the  same wine competition Domaine Serene, was named as the Top Pinot Noir in the World in 2016 with their 2012 Winery Hill Pinot Noir. Further, they are not the only publication to award the winery with top honors in recent years. Just this past November, Domaine Serene received recognition from the Wine Spectator as the top white wine of the year for their 2014 Evenstad Reserve Chardonnay and again in 2013, when their 2010 Evenstad Reserve Pinot Noir was awarded the top-ranked Pinot Noir in the World.
About Domaine Serene
Grace and Ken Evenstad founded Domaine Serene in the Dundee Hills of Oregon in 1989. The Evenstads had faith and confidence in Oregon early on, before there was a national market for Pinot Noir and Chardonnay from the region. Today, Domaine Serene produces wines from six individual vineyard estates, planted exclusively to Pinot Noir and Chardonnay. Each estate offers a diversity of soils, clones, rootstocks, microclimates, slopes and elevations that add distinguishing complexity and elegance to the wines. In 2001, the Evenstads completed construction of their current state-of-the art, five-level, gravity flow Pinot Noir winery. They broke ground in 2017 for their Chardonnay and Sparkling winery, the first dedicated white winery of its kind in Oregon, and will debut their new Sparkling Wine program that is scheduled for release in the summer of 2018. The wineries, located on the prestigious Winery Hill Estate, were built as a statement to the quality of Pinot Noir and Chardonnay that can be produced from the world-class Dundee Hills AVA. In 2015, Ken and Grace acquired Château de la Crée, the respected wine estate located in the birthplace of Pinot Noir and Chardonnay, the renowned Côte d'Or. This made them the first Oregon-based vintners to own land and produce wines in Burgundy, France. In total, the Evenstads own 730 total acres of land in the hills of Yamhill County, with 275 acres planted to vine, and 25 acres, comprised of over forty percent Premier Cru vineyards, in the Côte de Beaune region of Burgundy. Finally, in 2017 Domaine Serene opened a new best-in-class hospitality center, the Clubhouse at Domaine Serene, that is changing the landscape of fine wine hospitality in the Pacific Northwest. For the past 25 years, Domaine Serene, under the guidance of the Evenstads, has been focused on excellence in a never-ending quest to produce world-class Pinot Noir and Chardonnay. Their mission is to produce outstanding quality through continuous improvement and a commitment to extremely high internal standards. Domaine Serene's wines represent the achievement that is possible in Oregon, one of the finest regions in the world for Pinot Noir and Chardonnay. For more information, contact Matthew Thompson at: matthew@domaineserene.com