October 20, 2023

/

Recipes
Take a culinary journey with Sommelier Sean: Try this duck recipe paired with a fine French wine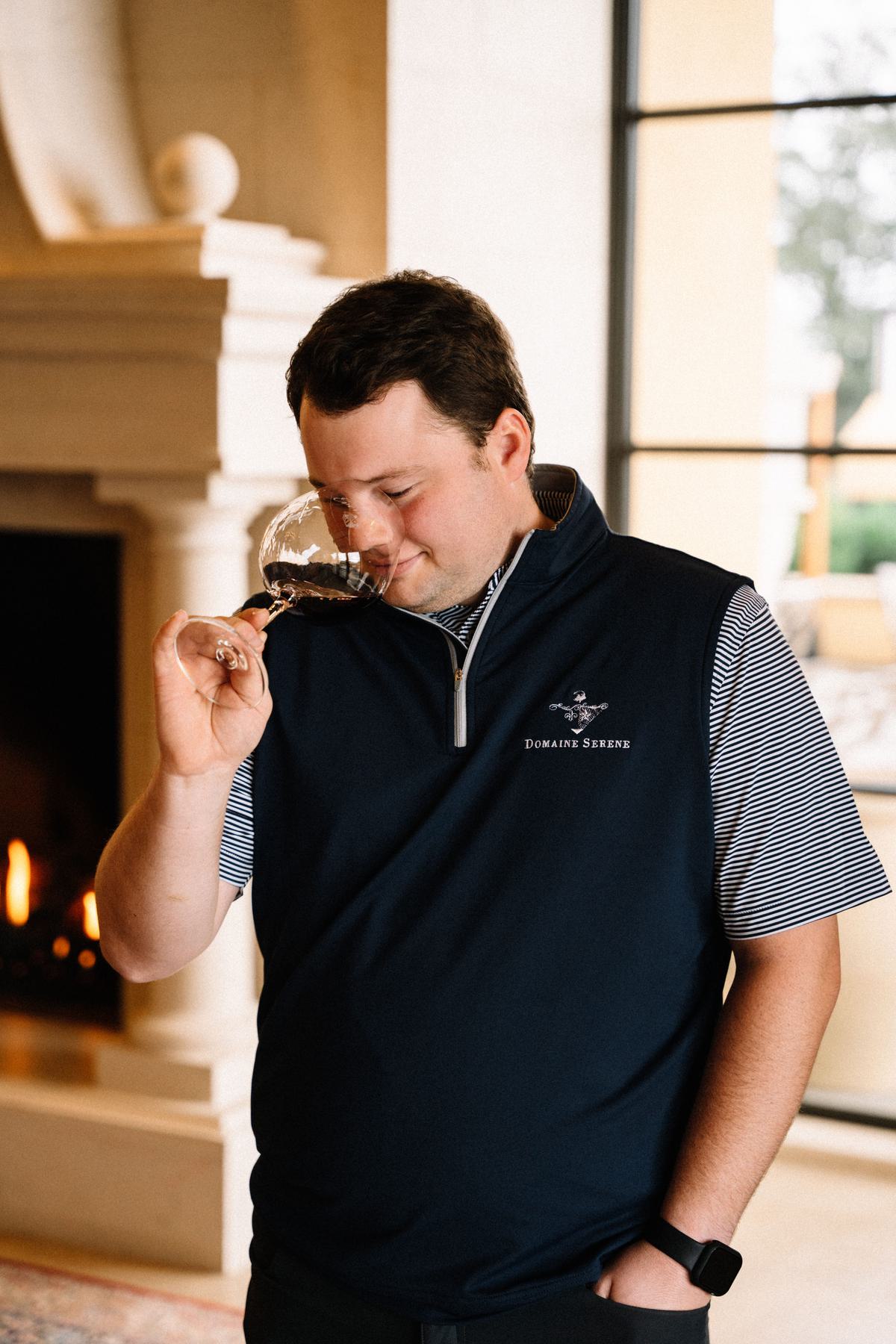 The Meals that Mean the Most
Sean's Fall Food Pairing Guide
"First off, it's hard to beat Volnay as it's my favorite village in all of Burgundy. A village with less than 300 people, it is truly only about the wine. The village is known for its Pinot; it's the silky smooth, velvety texture that sets it apart from any other spot in Burgundy. A blanket of soft tannins flanked by beautiful acid, it's in perfect balance. A duck breast is the perfect pairing with a great seer to compliment the soft fruit while the tannins play with the structure of the duck. This is my splurge meal that is a treat every single time!"
Skill: intermediate Serves: 6
Pair with 2020 Maison Evenstad Volnay Premier Cru Les Brouillards Pinot Noir.
Ingredients
2 duck breasts
Salt and pepper, to taste
1 tbsp olive oil
1 tbsp butter
2 cups Lobster mushrooms (or other available seasonally available wild mu), cleaned and sliced
2 cloves garlic, minced
1 shallot, finely chopped
½ cup Domaine Serene Chardonnay
1 cup cup chicken or duck broth
½ cup heavy cream
1 tsp fresh thyme leaves
Chopped fresh parsley, for garnish
Directions
Pat the duck breasts dry with paper towels. Score the skin in a crosshatch pattern with a sharp knife, being careful not to cut into the meat. This helps render the fat and crisps up the skin.
Season the duck breasts generously with salt and pepper on both sides.
Heat a large sauté pan over medium heat. Add the olive oil and butter.
Once the butter has melted and is slightly foamy, add the duck breasts, skin-side down.
Cook for about 6-8 minutes, until the skin is golden brown and crispy. Flip the duck breasts and cook for an additional 4-6 minutes for medium-rare, or adjust cooking time according to your preferred doneness.
Remove the duck breasts from the pan and let them rest for final plating.
In the same pan, add the sliced mushrooms. Cook for about 5 minutes, until they start to brown and release their moisture.
Add the minced garlic and chopped shallot. Sauté for another 2 minutes until fragrant.
Pour in the white wine and scrape up any browned bits from the bottom of the skillet using a wooden spoon.
Let the wine reduce by half, which should take about 3-4 minutes.
Pour in the chicken or duck broth and bring to a simmer. Let it cook for 5-7 minutes to reduce slightly.
Lower the heat and stir in the heavy cream. Simmer for an additional 2-3 minutes.
Stir in the fresh thyme leaves and season the sauce with salt and pepper to taste.
Slice the rested duck breasts against the grain into thin slices.
Serve the sliced duck on plates, drizzled with the wild mushroom sauce.
Garnish with chopped fresh parsley.
Serve the duck with the wild mushroom sauce alongside your favorite sides like roasted vegetables, or wild rice.
Our Sommeliers' Favorite Wines for Fall 2023 Meals